This is another repeat project that I did with students in my last school. You can check out the original lesson
here
. It's such a fun way to teach finding shapes to draw with K & 1 because DINOSAURS!
I Can draw a dinosaur using shapes
I Can draw a city with a lot of detail
Day 1: Read a book that is probably in my top 10 list of Best Books for an Elementary Art Room...
"If the Dinosaurs Came Back" by Bernard Most
. The way he uses colors only on the dinosaurs is my favorite part and a great conversation piece to talk about with students.
After we read the story, I had a few pictures of dinosaurs on my SMART Board and had students come up and draw the shapes they saw over the top of the dinosaurs. I 100% believe this was a part of the process that made my students successful on this project. After this practice, I gave each a fabulous resource that came right from this book! A photocopy of the last page which is a picture glossary of the dinosaurs in the book. Looking at that (and practicing on it if needed) they drew their dinosaur using shapes on a 6X9 piece of paper and selected a color tempera paint to fill it in with.
Day 2: Read another one of Most's dinosaur books called
"How Big Were the Dinosaurs?"
. This one is quite a bit longer but really engaging the way he compares sizes.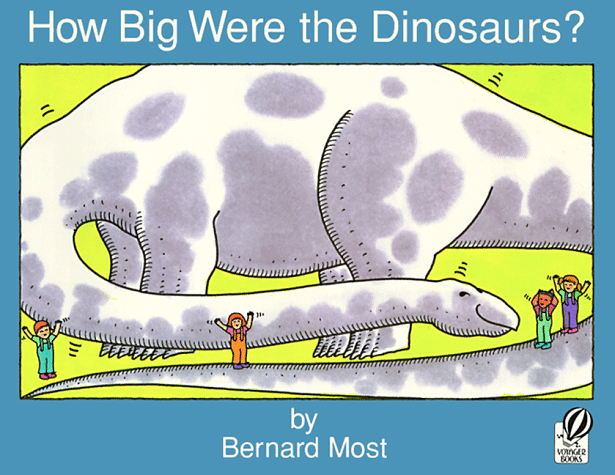 After reading the book, I showed them my demo of drawing the city and we talked about all the types of details they could add to make them REALLY look like a city and then they got busy drawing. They drew directly with sharpie. When their city was done they added more details to, and cut out, their dinosaur and glued it to their city.
These would have been perfect to have students record some type of audio with and add a QR code when displayed. NEXT TIME!